NHS trusts across England have declared a critical situation when the personnel absences have reached over 40% –  its highest level since the roll-out of the vaccine.
With highly transmissible Omicron variant and rising Covid-related hospital admissions, the number of NHS off sick with Covid exploded almost fourfold, according to the latest NHS Data.
Although Omicron has proven less severe than previous variants, for most infected, it has a detrimental impact on hospitals.
The new variant has come at the same time as the usual winter pressures in hospitals, which has put an additional strain on NHS frontline workers who struggle to cope with increasing workloads and capacity.
Shannon Louise Watts, NHS Health Care Assistant at Nurseplus UK Ltd from Bournemouth said:
"Understaffing because of Covid has been an issue for weeks! The wards have been very busy and short-stuffed. We have a lot of staff off sick, and ambulances lined up waiting for beds! We are working lots of overtime, all of us are covering as much as we can, whenever we can."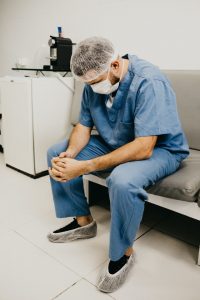 Waiting for test results and personnel fluctuation
Soaring Omicron infections among NHS workers is not the only reason for a significant drop in staff numbers.
Workers who have been tested positive and waiting for a PCR test result must stay home for three days if they do not have any symptoms. NHS Health Care Assistant at Priory Health Care, Jade Stanley said that this procedure has already stopped her from working for six days multiple times.
Stuff fluctuation is another reason for NHS personal shortages in hospitals. Ms Stanley, from Poole, works at different hospitals and words and has observed a huge increase in NHS staff leaving their department and going somewhere else.
She said: "Everyone's just moving. Everyone thinks, I will move and make it better, or it would be better if I go to another hospital. People are just looking for that kind of new environment because they're tired of what's going on."
For her, those red staffing levels pose the most challenging part of her work because of "not being able to give the right support and that kind of therapeutic engagement that you normally would with your patients."    
Bethan Davies, NHS Consultant Medical Secretary for Orthopaedics at University Hospitals Dorset, from Bournemouth confirms this trend saying that her hospital is looking for new staff to fill the gaps.
She said: "We're just trying our best to get everyone sorted on but many of us are just burned out and can't anymore."