People are getting set for a month of "mo" growing as part of this year's Movember campaign to encourage people to wear moustaches to raise money and awareness for male health issues.
The ten year old charity raised £27 million in the UK alone last year for causes such as prostate and testicular cancer research. Last year's drive was launched in the UK with a giant moustache on Big Ben in London, but this year has not seen a publicity stunt on the same scale to launch the month long charity drive – perhaps in an attempt to scale back costs.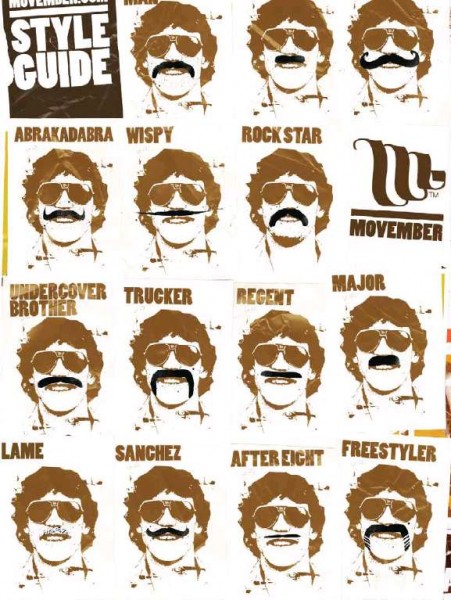 "We will get men to grow moustaches and the community to support them by creating an innovative, fun and engaging annual Movember campaign". Movember UK
The charity founded in Australia in 2003 by a group of friends, has now amassed over 3 million registered members. It is quickly becoming a globally recognised brand and has become one of the best known charities in the UK.
The project has celebrity support from ambassadors such as Stephen Fry, Muse, footballer Michael Owen, Damian Lewis, comedian Jo Brand and explorer/survivalist Bear Grylls all donating their faces and support to help raise awareness and publicity. It is clearly a cause that big names want to be behind.
What's it all about?
In a BBC interview, Justin Coghlan said, "It's a fun thing to do with your friends and it sparks conversations with complete strangers too. It's all about guys coming together, but for a serious reason."
Men – or "Mo Bros" as they are known – are asked to secure sponsorships to grow a moustache for the 30 days of November. Women – "Mo Sistas" are encouraged to support the Mo Bros through the month.
It's a simple process, and from my experience as a participant of Movember myself the conversation often goes a little like this:
"It's a fun thing to do with your friends and it sparks conversations with complete strangers too. It's all about guys coming together, but for a serious reason." Justin Coghlan
Friend – "Why are you growing a moustache?"
Me – "It's for Movember, to raise awareness of men's health issues. Did you know that one in 11 men in the UK will get prostate cancer?"
Doing something so noticeable is a great way to get people talking about issues that, amongst men are traditionally not mentioned due to embarrassment.
The Movember website provides you with a mountain of information, advice and facts and figures on men's health. But it's not all about scaring you, there is a palpable effort to build a community.
Where's the money going?
Of the £27 million raised in the UK in 2012, 82.2 per cent went into men's health initiatives, with 73.7 per cent going into Prostate Cancer UK managed programmes.
The charity is transparent about where the money is going and why. Financial reports are easily available and they often go into the detail of explaining why money is being spent where it is. There is a clear openness from a charity which understandably places a high importance on trust.
With a Global Action Plan (GAP), the charity is looking to spend money in a variety of areas, the bulk going into research but resources also being used towards providing counselling and linking researchers throughout the world.
"We believe that getting the best researchers from around the world to work together on key challenges will accelerate breakthroughs that will ultimately benefit men with prostate cancer" – Paul Villanti, Movember
Future projects are obviously important to the Movember brand, with the release of a cookbook, Cook Like a Man, and the release of a mobile app to help keep Mo Bros tracking their progress on the go. They are looking to remain fresh and to keep the momentum going.
Can it improve?
Certainly, the Movember site states, "While significant steps have been taken toward achieving our vision of an everlasting impact on the face of men's health, there is still much to be done".
Part of the Movember movement is the hope that by being open about embarrassing topics for men such as testicular or prostate cancer, they will influence new generations to be more open and get themselves checked.
Yet there is a distinct lack of obvious participation within Bournemouth University, for example – no posters, no flyers and little awareness.
Movember has made huge strides in recent years. It now appears on bottles of HP Sauce and has a major partner in Gillette, along with many other companies. The celebrity support is large and growing – you can expect to see moustachioed men on your TV screens for the next month.
The most important thing is though that this charity is having an effect. More men are getting checked and the funding has been a huge boost to cancer research in previously underfunded areas.