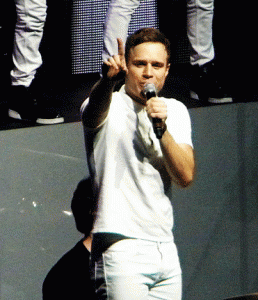 A dedicated Olly Murs fan who starred in one of his videos was thrilled to see him in the flesh again when he sang at the Bournemouth International Centre (BIC) last night.
Jan Lawson, 56, won tickets to the concert in a Wave 105 competition, after starring in Olly's 70's themed video 'Busy' as the 'nosey neighbour'.
She said: "I am a true Olly Murs fan and I am delighted to see him again. I know if I saw him now he would recognise me.
"My relatives in Australia saw me in the video too!"
Ms Lawson was one of almost 5,000 Olly Murs fans that filled the BIC on the opening night of the singer's 2012 tour 'In Case You Didn't Know'.
The Essex lad came runner up on The X-Factor in 2010 and is famous for his songs 'Heart Skips A Beat' and 'Please Don't Let Me Go', which have both reached number one in the charts.
His most recent release and number one album 'In Case You didn't know' also topped the singles charts on two consecutive weeks.
Ray Gollop, assistant operations manager at the BIC, said: "Tonight was very successful and the venue filled its capacity. We hope to achieve the same tomorrow night."
Many fans stood eagerly outside as the star left the venue for a secret after party.
Click below to see what the fans thought:
[jwplayer mediaid="12948″]