Poole hotels are increasing their rates up to three times more than the standard amount to take advantage of next year's Olympic Games.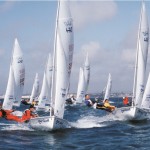 The Olympic Sailing and Paralympic sailing sports are taking place in Weymouth and Portland. The hotel chain Holiday Inn Express is one of the hotel chains that will be providing accommodation.
Kelly Thompson, the deputy manager of the Holiday Inn Express hotel in Poole, said: "We are the closest International Hotel Development hotel to the sailing in Weymouth so we expect that the Olympics will affect our hotel. Our prices have gone higher than they normally would to reflect that."
Typical rates of the Holiday Inn Express hotel for the summer period usually start from £107.96 per night for a double room. During the Olympic Games the rates will increase to £395 per night for a double room.
For the same room type, Premium Inn hotel in Poole will increase its prices froml £85 per night to more than £140 per night.
James Parker, a holiday maker from Kingston, who is currently staying at the Holiday Inn Express hotel,  said: "I believe this situation is taking advantage of the tourists and it is anti-democratic but everyone can make their own decisions when it comes to where they are going to stay.
"I prefer staying at a hotel in nearby areas and pay cheaper."
A former Holiday Inn Express hotel customer, Kyriacos Mosfiliotis, 25, from Larnaca, Cyprus, said that it is normal for the hotel owners to increase the rates because companies hope to profit from the event.
"As an international customer, I believe that this is once in a lifetime experience that I will never forget so I don't mind paying more," he said.