The festival encourages locals to dress in gruesome zombie costumes and have some Halloween fun. It was arranged by Zombie Festival, alongside BCP Council and Poole BID.
The festival has expanded this year, with activities such as potion-making, pumpkin carving and special effects makeup. Organisers were worried about the heavy rain and gale-force winds, but this didn't keep the zombies away from Poole high street.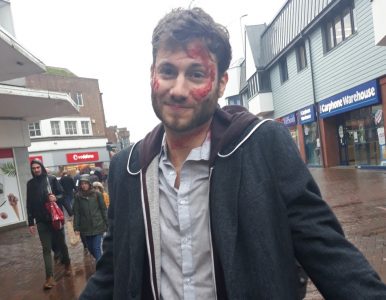 The most popular activity was the scare maze, where locals were spooked by volunteer zombie actors in elaborate costumes. Emma Greenfield, who experienced the maze, said: "My heart's still pounding now, it's so good."
Zombie Fest was held for the first time last year. It started out as a Zombie Run where participants were challenged to survive the apocalypse.
The festival aims to promote Poole and get people in the Halloween spirit. Daniel Coombes, one of the festival organisers, says: "It's to give back to the Poole community, and promote Poole as a place, as a destination for people to come to to shop, have fun, and to enjoy themselves." Coombes also does special effects makeup and was responsible for the gruesome appearance of the actors in the maze.
He says that Zombie Festival's events are continuing to expand due to the popularity of zombies, and that people enjoy the anticipation and adrenaline rush of being scared.
 Zombies are such a good way of letting go and not having to conform, and it's an escape. So much now is about looking beautiful and being filter ready, and it's nice that people are so comfortable in themselves, being able to make themselves look gory and disgusting.
The festival organisers said that the event couldn't have happened without funding from Poole BID. They were glad to see such a good display of community spirit from locals during the event.