An overlooked Poole sculpture is turning 25 next month, amidst a conservation project set to "shine a light" on the historic piece of public artwork.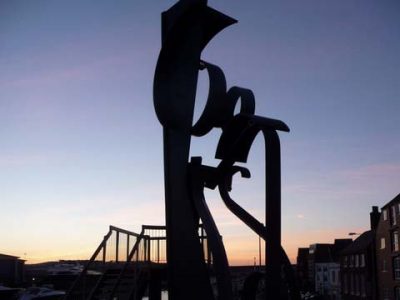 Designed to evoke the sound and appearance of the flowing sea through interlocking rings and curves, the abstract Sea Music sculpture has stood tall on Poole Quay for nearly 25 years.
Its sculptor, Sir Anthony Caro, was an iconic figure in the development of twentieth century sculpture, and Sea Music is unique in that it is Caro's only British public art commission.
Stephen Feeke, director at the New Art Centre, said: "After Henry Moore, Caro was the most important British sculptor on the national stage. It's an extraordinary example of his work – there's nothing else like it in the country."
Local landmark
The steel sculpture was built in 1991 as a piece of public art that would act as a local landmark for Poole Quay. Due to his fondness for Poole and Dorset, Caro donated his time and services for free to create Sea Music. Its construction became a project that united the local community, with British Steel and local businesses also donating their time and materials for free.
25 years on, and the sculpture and three viewing platforms have suffered from the elements and are now in need of conservation and repair before their condition worsens. Sea Music also remains largely unknown as a piece of historic artwork. Mr Feeke added: "Strangely, it has been slightly overlooked. Even in the Caro books and monographs – it doesn't figure very largely."
But the Sea Music Project is set to change local perceptions of the sculpture. Last year, Poole Museum and its partners were awarded £44,600 by Heritage Lottery Fund to repair and celebrate the 25th anniversary of Sea Music.
As a part of the initial stages of the conservation project, the Sea Music Project carried out surveys to analyse the sculpture and its public perception. Melinda McCheyne, Project Manager of the Sea Music Project, said: "One of the big things that's come up in our surveys is that people don't know that much about it – they don't know why its there."
The Sea Music Project
Mrs McCheyne hopes that the Sea Music Project will raise awareness of the local landmark through its anniversary celebrations and conservation work. "The main goal is to make sure it's conserved in the correct and proper manner, and to ensure it's looked after for the next 25 and more years so that we know it will always be there. And also to help people understand why it's there – the importance of it and what it means and how it got there.
"We want to let new audiences know about it, we want it to be known nationally and internationally – so we're hoping that it will shine a light on it again, let people know that we've got this very valuable and important artwork here and celebrate it."
The Sea Music Project begins its celebrations next month with an exhibition at Poole Museum and a 25th Anniversary event on the 22nd November 2016. Celebrations should continue through to May 2017, to coincide with Poole's European Maritime Week.