A 20-year-old Bournemouth woman claims that restorative yoga has helped her beat her battle against a chronic disease.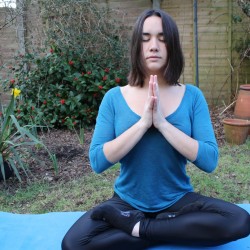 A schoolteacher suggested that yoga might help improve her health when she was in high school, but she wasn't convinced initially.
"At the beginning I felt a bit apprehensive. I pictured yoga as a bunch of old people sitting around doing nothing. I'd had to quit the swimming team around that time and the thought of taking on a different hobby was quite daunting", she said.
Julia developed fibromyalgia as a teenager, which is very uncommon. The condition usually affects adults above the age of 50.
Julia said that now she cannot imagine her life without yoga.
"No matter how I feel before going into my yoga class, when I come out I'm a whole new person.  I let go of my pain and it really helps with my depression and anxiety – I would have probably had a breakdown by now if it wasn't for yoga."
There are different types of yoga, and some are believed to help relieve chronic pain.
Check out the video below to learn more.
Julia's story (Yoga) FINAL from Alicia on Vimeo.