Ensuring access to the right kit is a key factor for getting young girls into sport. That's according to Sport England, the public body charged with increasing sports participation.
They say, "we need to make it easy for women to act; right time, right place, right welcome, right company, right gear".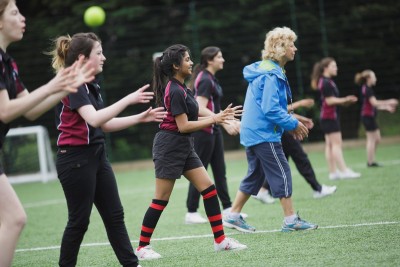 So, as a mother who is keen to get my daughter involved in sport, I decided to head out to the shops and purchase some sport kit. After all, for many girls, getting properly equipped is the first step when preparing to take up a new sport.
I was disappointed to discover that a number of high street stores either stock very little or no girl's sportswear whilst boys are well catered for. In my local Gap in Bournemouth for example, there a section dedicated to GapFit boys but I was told that girls sportswear is only stocked online.
Gap declined to comment, except to confirm that the girls range was indeed available online.
Online stores offer a similar experience; some of the most well known have a very different approach to girls and boys active wear. George at Asda for example, offers about twice as many items for boys with a choice of tops, trousers, shorts and footwear as opposed to a very limited selection in the girls' section.
TU at Sainsburys has 33 items in it's boys' sports section and 12 in girls' sports section, of which three items are for Ballet. Both companies did not respond for comment.
Sport England agree it's an issue and say that one of the main concerns highlighted for girls is having access to the right gear and feeling comfortable with their appearance:
"Research shows a huge difference in the number of men and women playing sport. And it's not because females don't want to get active. Millions of women and girls are afraid to exercise because of fear of judgement".
The statistics for girls's sport are pretty sobering. Some highlights include the fact that only 16% of girls do one hour of moderate activity each day and less than 50% of girls aged between 14-18 take part in any sport at least once a week.
Sport England have launched the 'This Girl Can' campaign to get girls of all ages, shapes and sizes into sport and hope it will, " prompt a change in attitudes and help boost women's confidence".
UPDATED 14th April. Gap provided this further statement:
"Regarding stock in the Castlepoint store. We have in fact confirmed with the store that we are carrying both boys and girls activewear collections. Due to the sale period they have not replenished the collection when you had visited. However, this is available in store".