Bournemouth bar Sixty Million Postcards hosted three bands on Saturday night, an evening laced with indie-pop, alternative rock, and thrash. Warm up acts for headliners The History of Apple Pie were London-based duo Playlounge and Falmouth-based beach punks The Black Tambourines. Playlounge performed their stuff well, especially considering the drummer, who produces heavy thrash beats, also provides lead vocals. But their music didn't really fit in with the gig, it was a bit too raw and, forgive me for sounding like an old man, loud! The Black Tambourines, though, were a surprising highlight of the night, playing chilled out surf-inspired guitar riffs with a stripped back approach. Despite the chilly weather, their performance made Sixty Million Postcards feel like a Californian surf joint from the 1970s. But overall the support was patchy, and the crowd was not responsive enough to establish a roaring atmosphere. As a matter of fact, a good portion of the evening's clientele were middle-aged couples who had stopped off for a quiet drink and looked rather confused when the live bands came on.
The London-based headliners The History of Apple Pie have been growing in notoriety, and have become firm favourites of Marshall Teller Records. They visited Bournemouth on the back end of a nationwide tour and entry was free. The five-piece outfit played a range of classic and new tracks, airing fuzzy pop-rock to a receptive audience. But lead singer Stephanie Min sounded less hypnotically harmonic than usual, possibly she was drowned out by three guitars and a wide range of effects pedals, overkill at times. The band received good cheers from the crowd though, and their thick distortion-focused indie-rock was ultimately impressive. Touring and playing back-to-back dates since 28 January up and down the country may have taken its toll on the team, but fan-favourite songs like Mallory came through with enthusiasm.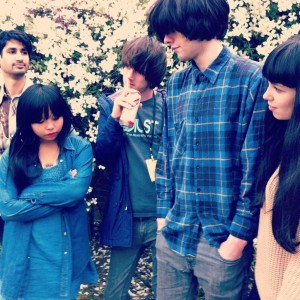 The History of Apple Pie have just one date left on their schedule, in London at The Old Blue Last, and it's safe to say they'll have picked up a strong new following on their Winter journey. The evening was a winner overall, but strong clashes between music genres caused a bit of a stir, the jump between the opening bands a bit too wide. The History of Apple Pie impressed with soothing synthetic rhythms, but their live performance was somewhat stunted by a multitude of effects and distortion. You can find out more about The History of Apple Pie on their website, or on their Facebook, Twitter and SoundCloud pages. This year will see them release their debut LP Out of View on Marshall Teller Records, the company who also signed The Vaccines. To find out more about the support bands, you can visit The Black Tambourines SoundCloud page here, and Playlounge's here. If you're interested in visiting Sixty Million Postcards, find out more on their website, Facebook or Twitter pages.
Main image from The History of Apple Pie on Facebook.