Surrounded by silent iron barriers, and the noise of excavators, The Waterfront IMAX theatre is being demolished. The big glass building, which stands on the best viewpoint in Bournemouth, was built at the close of the 1990s. During its short existence, the building has become the most controversial construction in this area.
The idea of an IMAX first took place in 1988. If everything went well, it could be one of the earliest IMAX cinemas in the UK. However, the decision was not made easily. Later in 1995, a proposal impressed the council. Local Councillor Bob Chapman, the chairperson of the economy and tourism panel, recalled: "Once the old baths were demolished, the site was used for car parking. After 'going to the market' for an indoor leisure attraction, we agreed terms with a developer – Imry – who had a good reputation for constructing shopping malls. The original concept provided an up-market casino on the top floor overlooking the bay and an IMAX cinema at the rear."
In 1996, Imry was dropped and replaced by another company – Sheridan. The same year, the scheme received outline planning permission. But when a detailed planning application was submitted, the height of the building had increased by about 17 feet, for the technical requirements of the IMAX screen. Thus, when the frame of the building was erected, residents, especially those living on Bath Hill, found that they had lost their sea view.
But, this was just the beginning. Because of financial problems, the IMAX, which was expected to be opened in 1999, suffered a two year and eight month delay. It finally opened in March, 2002, which caused great disappointment.
At the beginning, everything went well. People were willing and happy to go in the new building for entertainment. However, this did not last long. Councillor Michael Filer said: "At that time, there weren't proper films available. They had small films, which lasted about a quarter of an hour, or, twenty minutes, but they didn't have long films that one can see at the cinema. And once people had been there once, there was no incentive to go back again."
Emma Worgan, a Bournemouth freelance documentary maker, said: "I never went (to the IMAX), partly because I didn't want to support it, having made such a fuss about it in public, but mostly because the films on offer were so limited and uninteresting."
Unprofitable trading led the operators to shut down the IMAX in 2005. It closed before Easter, a good commercial season, three years after it opened. A note on the door mentioned that the theatre was being refurbished. However, the refurbishment would never be finished.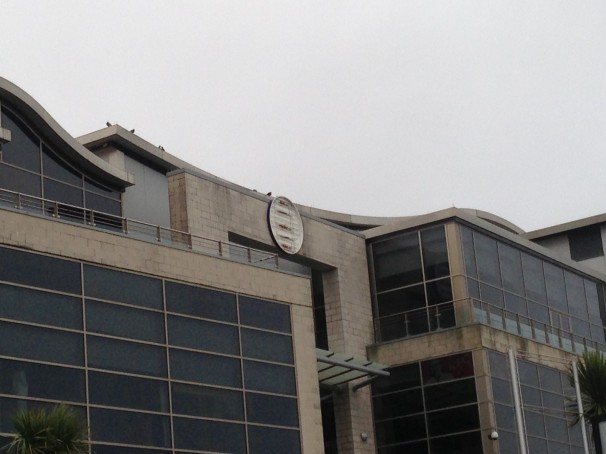 Complaints and criticism from residents and tourists were directed at the local council. The building which had no attractive businesses, and blocked the sea view became an enemy of Bournemouth people. Some people wanted the building demolished; others tried to save it, but change it's function. However, the operator, Sheridan, who owned the lease for the whole building, with a long lease on the council's land, did not want a change. Mr. Filer said: "The owner wanted to get all their money back, and I don't think they were able to."
At the beginning of 2010, Bournemouth council bought the building back from Sheridan for £7.5m. Then, a programme was set up to find out the public's opinion on the future of the building. Currently, the building is being slowly stripped inside, and there are attempts to reuse items. According to Mr. Filer, the building will be made much lower and it will be used as an exhibition space and space for entertainment. "It won't stay forever, just until the present recession is over and outside companies start to invest again." Tom Dale, a resident of Bournemouth, said: "I think Bournemouth residents would be happy with anything so long as the beautiful view over the Purbecks is restored."