Local residents look to Boscombe Vintage Market that is running for Britain's best markets' award as another step towards Boscombe' regeneration goes on.
After the independent web magazine Pretty Nostalgic launched a contest inviting people around Britain to vote for the top markets of the country, Boscombe Vintage Market's Facebook page has recorded many "Like". Being one of the contenders and possible winners, which will be announced in the March edition of Pretty Nostalgic Magazine, Boscombe Vintage Market's success is increasing, and for many local sellers and residents this award could be another step for Boscombe to revive and gradually become a new cultural hub in Bournemouth.
The market made its first appearance in October 2010, and was an immediate success, so much so that it now recurs on first Saturday of every month. The market is part of the Boscombe regeneration project, as well as the Boscombe Arts Fair and it  is supported by the Boscombe Regeneration Partnership and the Boscombe Area Regeneration Group. Their target is to not only provide opportunities for small businesses and talented crafts people but to also increase the number of people visiting Boscombe and create it as the new cultural focus in the Town.
At the initiation of the market, Bournemouth Councillor Jane Kelly, Cabinet Member for Partnerships and Regeneration,  said: "We are really pleased to support local businesses and artists to help get this initiative off the ground. It will be a fantastic opportunity for them to come and display and sell their work to the public. The Royal Arcade provides the perfect backdrop for what we hope will be a really popular and a successful regular event."
[one_half]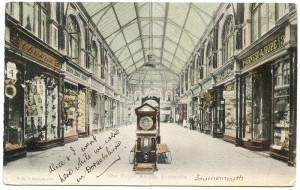 [/one_half] [one_half_last]
Walking inside the scenic and elaborate Victorian style of the Royal Arcade, with the pleasant accompaniment of music from '30s played by an old gramophone, it is possible to find any kind of vintage hand made article by small local businesses, artists and students in this market. Many residents and sellers have shown enthusiasm for the award and hope that Boscombe Vintage Market is one of the possible winners.
[/one_half_last]
Katharine Gunner, who sells many different handwork and vintage items, has been coming to the Vintage Market for over a year now. She said: "It's very busy and it is going well. It's fantastic this market is in running for this award.  Everybody here works hard and we all really enjoy coming here and spending a nice day together. It gives a good image to Boscombe as well."
Ilyass Yatim, a vintage leather item creator and seller, said: "I saw on Facebook that people were voting and I think that this award is a good idea.  Besides, the market is getting better and many different people come here, it is fun."

Main picture: sherrysrosecottage
Picture : alwyn_ladell