On Friday, February 10th, 2012, Bournemouth Brothers Jake, Joe and Jack Bastable walked into court, their bags packed for prison. The public gallery was cleared to allow the sizeable support of their large family room to sit. Crew cut and clean shaven they gave their plea. Joe and Jake accepted that they were guilty, they were indeed, 'gardeners'.
Theirs was no ordinary horticulture however. No spades or soil were involved. The paraphernalia used in their gardening included light bulbs, fertilizer bottles, syringes and alcohol wipes, all marked with their fingerprints.
Reports of cannabis factories in Bournemouth go back to 2008 when Dorset Police's Operation Dismantle raided 14 factories in six months. Few areas are immune to infiltration. Factories have been found in Boscombe, Winton, Charmister, Springbourne, Wimbourne and Poole. Quantities reported range from 101 to 323 plants per residence. The latest police raid took place on January, 23, at addresses in Kinson and Boscombe. Dorset Police web-site states: "Officers found and seized large quantity of cannabis plants". A 45-year-old man and 27 year old woman were arrested and released on bail.
The setup at each factory follows a set pattern. A residence is acquired with rent paid upfront. The windows are blacked out, electricity meter bypassed, heated UV or halogen lighting installed, fans and an irrigation system rigged up. Fast growing strains of  "Skunk" cannabis plants are grown in small quantities of compost and fed fertiliser.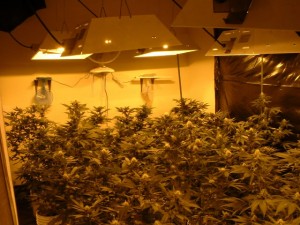 The 'skunk' produced can be particularly strong and has been associated as a trigger for mental illness. In February 2008 Recorder Paul Dugdale told Bournemouth County Court: "Cannabis can have dangerous consequences. It is often mistakenly called a soft drug.
"The sort which comes from these factories is stronger than in the past and can be more dangerous. Everybody involved in production needs to know the courts will meet this behavior with long prison sentences."
Fire is a danger too – due to intense heat produced by lamps left in unsupervised and unoccupied properties – two such fires have gutted properties in Boscombe and Charminster.
Money is the motivator and considerable amounts are involved.
In 2010 a garden shed produced plants with an estimated yield of £2,000 per month. In 2008 a combination of six factories produced over 300kg of cannabis with a street value of £2m. The crop in the Bastable brothers case, found at an address in East Howe, amounted to 254 plants with an estimated street value of over £30,000. As Judge Johnson pointed out on Friday: "This was relatively big business".
After a raid in 2008 Superintendent Stuart Katon told a local newspaper: "This is about organised crime. The cultivation of cannabis is big, big money and that money is possibly going outside the country or inside the country to fuel more cannabis factories."
Criminal consortium sources in Vietnam and China have been linked to factories throughout the UK. Concurrent criminal activities include gun running, prostitution, people traffacking and money laundering. In 2008 a Vietnamese gardener was jailed and deported after being rumbled at a Winton factory. He had sold his home to come to the UK on the promise of a regular job.
So what makes Bournemouth such an attractive place for this activity?
The ready supply of rental properties is key. Large properties can be rented at prices below the London market and in areas where there is a large turnover of tenants – such as student areas – the factories go unnoticed. Police have asked landlords and neighbours to look out for tell tale signs such as blacked – out windows, tenants reluctance to allow their landlord entry, and lack of  signs of permanent habitation.
Gardeners such as the Bastable brothers are young cannabis users themselves. They are often small coggs in a larger machine. Law enforcement agencies recognised the "lesser role" these lads played in the crime. The defence for Jack Bastable included submission that he was under peer pressure, "used as someone who wanted cannabis" and vulnerable by age and lack of maturity.
The Bastables claim no economic gain, just free cannabis. Other gardeners can make around £1,500 a month.
Jake and Joe, the elder bothers, were given a six month prison sentence. A female supporter broke down as Judge Johnson ordered: "Take them down."  Jack received a 12 month community order with a curfew.
Early release is possible on a electronic tag.