Trip Advisor claims to be the largest travel site in the world with over 40 reviews posted on the site every minute and more than 50 million unique visitors per month. With such a wide reach, the company can clearly be hugely influential in the fortunes of small tourism businesses.
Several hoteliers have complained about allegedly unfair or inaccurate reviews appearing on the site. Most recently Bournemouth hotel owner Ken Robbins announced that he would be taking the travel site to court after a review compared the Hotel Celebrity on Gervis Road to a brothel.
Reviewer 'Gemma B' wrote on the site: "It was seedy and filthy and was like sleeping in a Brothel. All they needed was a red light! DO NOT STAY AT THIS HOTEL!!!!"
Hotelier Ken Robbins has said that the review may put himself and his family at risk and has affected his profits.
Last week an internet troll admitted to posting negative reviews on Trip Advisor and numerous other websites about a restaurant she had never visited.
The Good Life vegetarian restaurant in Shrewsbury reported that their profits dropped by a quarter as a result of the fictitious posts claiming to have found hairs in the food.
These recent complaints come just weeks after the travel site was given a dressing down by the Advertising Standards Agency. The ASA ordered Trip Advisor to rewrite some of its marketing claims such as "reviews that you can trust" and "more than 50 million honest travel reviews".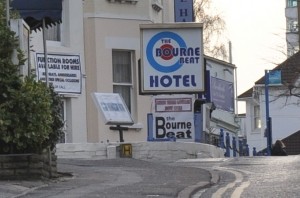 The ASA was concerned that visitors might be fooled by fraudulent posts as the entries could be made "without any form of verification".
KwikChex.com is a company that helps businesses to improve their reputation online. Spokesperson Gemma Byrne said: "The Hotel Celebrity case is just the very tip of the iceberg, not even by far the worst example.
"We have had over 3,500 enquiries from around the world and the number of reports we receive is increasing week by week.
"Smaller businesses are unquestionably more affected, they have less reviews in the first place, so it takes relatively few anonymous, unsubstantiated negative comments to damage them in these circumstances and they have less resources to fight back.
"The effects are often devastating, immediate drops in income are usually between 30 and 50 per cent."
While a few reviews are clearly malicious, some hotels get consistently bad reviews. To find out how accurate these reviews are I decided to stay the night at the hotel that Trip Advisor users rated as the worst in Bournemouth.
Out of the 61 hotels in Bournemouth with a score on the site The Bourne Beat Hotel on Priory road is ranked 61st.
Of the 36 reviewers 22 rated their stay as 'terrible' and six as 'poor'. The Bourne Beat has an average rating of just 1.7 out of five. If that wasn't enough to put you off here is a selection of a few choice reviews:
[wpcol_1half id="" class="" style=""]
SmoggyBournemouth
"The carpet was filthy with what looked to be a huge vomit stain, the bedcover was torn and most mornings I woke up covered in bites. The furniture looked as though it had been taken from the nearest rubbish dump and there were no hangers in the wardrobe.
"There was no soundproofing and the only thing that separated my room and next room was a sheet of plywood. Consequently I could hear other guests conversations word for word and also hear them snoring."[/wpcol_1half] [wpcol_1half_end id="" class="" style=""]Rainsnakes
"Shower cubicle had grime all over it and water dripped from the shower and made the floor wet and stagnant. The sink was clogged with so much hair that the water couldn't drain properly. There were fleas and bedbugs and from the looks of it the sheets are not cleaned after each guest." 
Delboy5121
"I'd rather stay in the rubbish dump. Worst hotel I've ever stayed in, just got back from a weekend in this rabid flea pit."[/wpcol_1half_end]
With those ringing endorsements in mind I packed my bags for a Bournemouth staycation.
The Bourne Beat has a prime location, just a stone's throw from the beach and a couple of minutes walk from the pier, the BIC and the town centre. The hotel is also a bargain, £20 will get you a twin room for one night.
[wpcol_1third id="" class="" style=""]Yes, the room was dated, not exactly what you would call warm and there were several dodgy looking stains on the carpet. (The one unforgiveable mistake of the room was the carpeted bathroom. Given that the Bourne Beat is close to Bournemouth's party district, and that revellers returning from a night out are not renowned for their aim, I cannot help but think that a less absorbent floor covering might have been wise.) But for £10 a head I can't really find much to complain about.
The staff were friendly and polite, the room had a little TV with freeview, a kettle and was well stocked with tea and coffee and little bars of soap and there was even free WiFi.[/wpcol_1third] [wpcol_2third_end id="" class="" style=""][portfolio_slideshow pagerpos=bottom navpos=disabled][/wpcol_2third_end]
There was no sign of the reviewers' much talked about bed bugs, the bed was comfy (if a little rickety), and I slept like a log. Despite being only a few miles from home, and in supposedly the worst hotel in Bournemouth, I enjoyed my little one night mini-break.
For the budget-conscious traveller then, trip advisor may not be the best choice. Hotels at the lower end of the price range, such as the Bourne Beat, can easily have their reputation tainted by customers with unrealistic expectations of their thrifty lodgings.
While hotels may not like getting unfavourable reviews on Trip Advisor the site, now in its 12th year, shows no sign of decline.
Trip Advisor told The Breaker: "I'm afraid we do not comment on pending or current litigation. However, we take our responsibility as the world's largest travel site extremely seriously and provide the platform and tools to aid our users' decision making process: enormous scale and freshness of content (more than 40 contributions a minute on average), management responses, reviewer profiles, extremely effective fraud detection systems, as well as the ability to report inappropriate content. In addition to the value Trip Advisor reviews bring to travellers, we also understand the importance that the reviews and opinions on Trip Advisor have to properties and businesses listed on the site."