Members of the disabled community are angry and claim their rights are being infringed after a cycle lane on Evening Hill, a popular beauty spot overlooking Poole Bay, was made permanent.
The replacement of 43 on-street parking spaces has been criticized for preventing individuals with mobility problems from accessing and enjoying the amenity.
David Morgan, 59, who has multiple sclerosis (MS) and is one of the people affected, said that: "We would park here and walk the short distance from car to bench to enjoy fish and chips at the viewpoint on a weekend. It was our favorite thing to do. Now, we can't."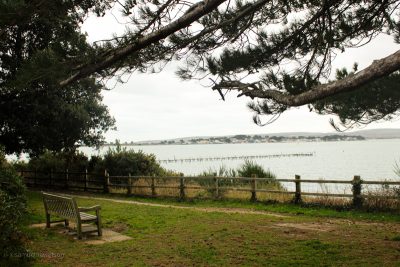 Sarah Morgan highlights the impact the changes have had on her husband's mental health:
"We've been doing that for the last twenty years, and all of a second it's been taken away. It was David's moment to walk those couple of yards and to feel normal. To not feel disabled."
Bournemouth, Christchurch and Poole Council plan to introduce disabled parking bays on nearby Shore Road and Adlington Road as a compensatory measure. However, Geoff Beck – who has impaired motor control functions – says these are unreasonable adjustments and contravene the Equality Act 2010, which protects disabled people under the law. This is because it forces a hard climb up Evening Hill or the purchase of a wheelchair or mobility scooter to do so, an expense that some cannot afford.
Mr Beck believes this is exemplary of how BCP council makes decisions on 'active travel schemes': "There has been no engagement with the disabled community. We've been stonewalled and brushed aside, in favour of a bike is king mentality."
In response, Mr Beck has set up a BCP Disability Rights group on Facebook to raise awareness and fight for representation in the decision-making process, demanding that "consequences for the disabled community must be considered."
The Evening Hill cycle path was originally introduced in 2020 as an emergency travel measure, making it safer for cyclists to use one of the main routes in and out of Sandbanks. Following a trial period, in which two-thirds of residents surveyed who travel through the area were found to be in favour, it was retained.
BCP Council has provided a statement: "These changes will help to create a safer environment for people walking and cycling. This will further contribute towards meeting our declared climate emergency by supporting more sustainable journeys through the area."
The Active Travel Schemes are part of the Transforming Travel initiative, a BCP-wide approach to building new cycling infrastructure and changing the way we travel to promote a healthier and more climate-friendly lifestyle.