Hundreds of spectators poured into the forests of Dorset and Hampshire on Saturday to watch the opening round of the MSA British Rally Championships.
Northern Ireland driver Mark Donnelly and co-driver Dai Roberts won their first International event in the Renault Clio R3 in a record time of 1:07:06.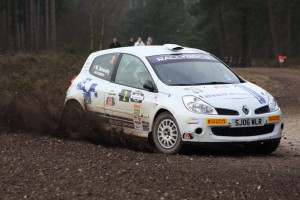 Donnelly and Roberts had an intense battle with Finnish driver Jarkko Nikara in the Citroen DS3 R3T throughout the 12-stage Rallye Sunseeker International, but on stage 11 the Finnish team were forced to retire after their cars engine caught fire.
Donnelly told Rally FM: "It is fantastic, it has been such an intense battle all day, it has been so tight between me and Jarkko, I think the biggest gap all day was 3.6 seconds.
"But unfortunately on the second to last stint he had engine problems.
"I was disappointed to see him at the side of there road, from then on I had to focus so hard on getting to the end and not making any mistakes. I think that was the hardest bit all day whenever you are not pushing it is so easy to make a mistake.
"It is a great feeling, shows how good the Renault Clio is. We just pushed flat out all day."
The second round of the MSA British Rally Championship is the Bulldog International on the 23/24th March 2012 in North Wales
The TV package below has exclusive interviews from the drivers and footage from the rally on Saturday 25th March 2012.
[FMP width="480″ height="360″]http://www.thebreaker.co.uk/wp-content/uploads/2012/02/Rallye-sunseeker-2012-H.264-for-Video-Podcasting.m4v[/FMP]