The Dorset Family History Society is offering research advice at Poole Central Library from today until Thursday and at Hamworthy Library on Wednesday and Friday.
The programme is part of the Poole's Local and Family History Week that begins today. This is the fifth time that the library has organised such an event.
The society's Education Liaison Officer , Debbie Winter, said: "We usually get around 60 to 100 people per day." Winter points out that many people want to find out where their families came from and what they did, but do not know how to go about it. The society helps these people with technical advice on family history research.
Sheila Martin, secretary of Dorset Family History Society, said: "We have volunteers who can help people with their research, advising them what to do at each stage."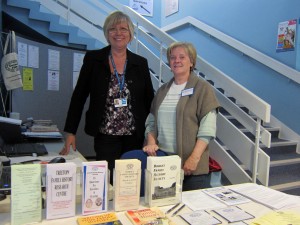 In a release from Poole Borough Council, Councillor Judy Butt, Cabinet Portfolio Holder for Public Engagement and Participation said: "Poole is fortunate that hundreds of years of it's rich history are so well documented for future generations to enjoy and explore."
The Dorset Family History Society is a member of the Federation of Family History Societies. The society is intended for those interested in tracing their family history, whether they are beginners or experts. Throughout the week, various events such as a talk by author Paul McDonald and a hands-on session about accessing Dorset's history online will be held.