Blithe Spirit, written in 1941 by Noel Coward, is one of the most enduring as well as sparklingly humorous plays.
The play is about a relationship between a successful novelist, Charles and his second wife Ruth, who is haunted by the spirit of his first wife, Elvira.
The play revolves Charles, who wants to research the occult for his next book. With this in mind, he invites an eccentric medium, Madame Arcati, to his home. The domineering Arcati conducts a séance, which inadvertently manages to conjure up the ghost of Charles's neurotic first wife, Elvira, who died 7 years ago.
[one_half]Madame Arcati leaves after the séance, not knowing that she has summoned Elvira. Comically only Charles can see or hear Elvira, and his second wife, Ruth, finds it hard to believe that Elvira exists.
Elvira is determined to sabotage his current marriage and makes continuous, and at times desperate efforts to disrupt it. That is where the actual fun begins and things get amusingly complicated.
Blithe Spirit overall is an amalgamation of exceptional acting, spontaneous witticism, and small but artistically crafted set, impeccable choreography and clever acting.
[/one_half] [one_half_last]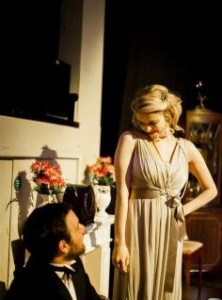 [/one_half_last]To successfully work on such minute aspects of a theatre show is a work of masterpiece and is definitely an achievement of the director,
Frank Holden
.
Emily Holden and Emma Stephens as wives handled the comic timings very well and Dani Bright as the scuttling little maid Edith was just adorable.
[one_half]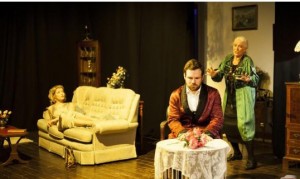 [/one_half] [one_half_last]For any production of Blithe Spirit, casting of Madame Arcati is a challenge and can make the theatre stand or fall but Patricia Garwood conducted the character very well and was perfect in the role.
Overall, the performances by all seven characters were spectacular particularly from Ben De Halpert as Charles and Emily Holden as Ruth. However, there was a bit of artificial movement especially from Madam Arcati and Edith.
[/one_half_last]Overall, it was a good play and the theatre was jam packed.
Staring : Ben De Halpert (Charles Condomine), Emily Holden (Ruth Condomine), Emma Stephens (Elvira), Patricia Garwood (Madam Arcati), Peter Cooper (Doctor Bradman), Trisha Lewis (Mrs Bradman) and Dani Bright (Edith). Directed by Frank Holden.
Main Image Credit: Marc Nazer